Gesammeltes Pressematerial.
Zum Lesen bitte auf die Balken klicken.--------------------------
Die Oper Orpheus und Eurydicke mit "Nathan" im Bodemuseum in Berlin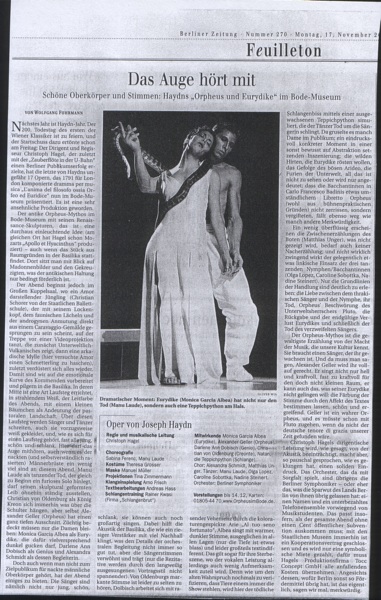 Kwasi im Paradies - Reportage der Süddeutschen Zeitung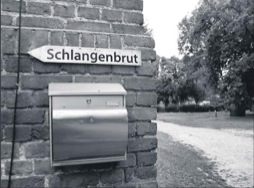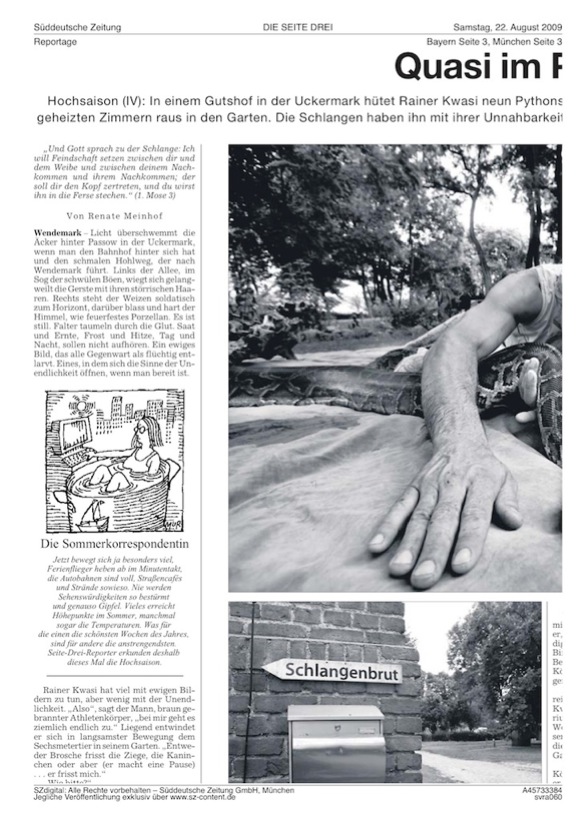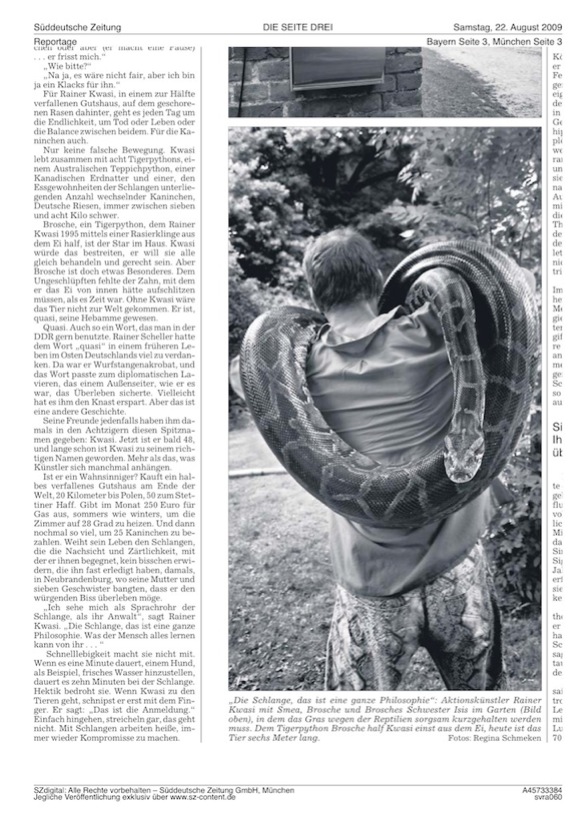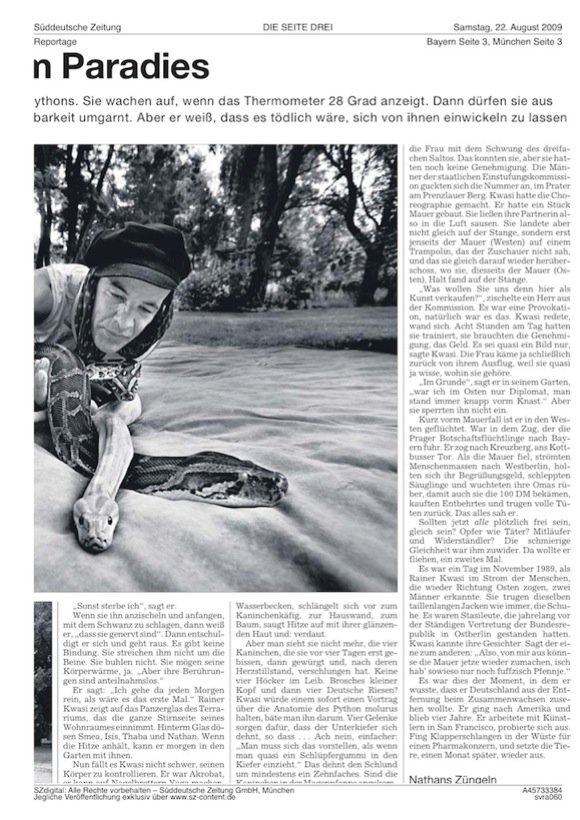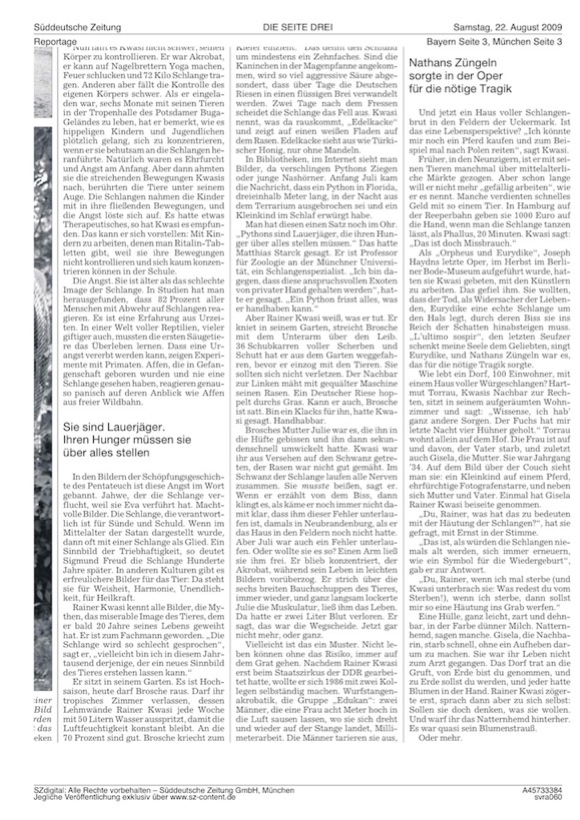 Reptilia - Der Schlangenflüsterer
Erlebnisausstellung in der Biosphäre Potsdam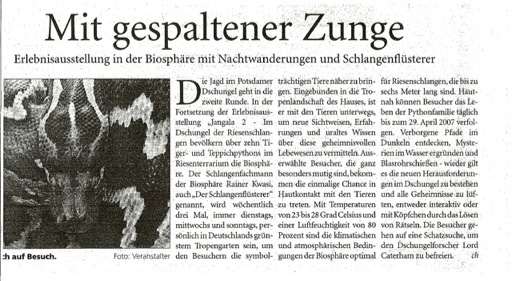 Art New England - Report from Berlin
ART NEW ENGLAND
April/May 2005
Seite 10:
Report from Berlin
x Bonnie Woods
Titel:
Snakes, Snow, and Cinema
.......Finale, in Germany, the term "action artist" (Aktionskünstler) covers work ranging from performance and conceptual art to political demonstration, and there is plenty of it in Germany. An astonishing example of new action tart is the work of Rainer Kwasi, a resident of former east Germany, who lived in a spacious glass enclosure in public view for a full month in Berlin this autumn with seventeen snakes, most of them tiger photons.
Amid the snakes and strewn throughout his glass house were books, as he is now at work researching and writing his own. School children and adults could watch the whole process, including his stunning "Medusa" action,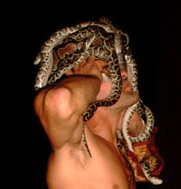 which involves assembling a knot of snakes around his upper torso and neck. The snakes slither upward around his head, leaving speechless the viewers who can bear to watch.
But moving far beyond American reality TV shows, Kwasi´s extreme reality is that he has been living with the same den of snakes for almost twenty years, first as a circus performer, and later as a naturalist, educator, and consultant to zookeepers around the world. He contends that the only way to fully understand snakes is to spend time with them. His largest is over 12 feet long and weights 170 pounds. Articulate and mild-mannered with a definite environmental edge, Kwasi´s latest project is to explore myths and legends about snakes.
While the United States may be narrowing its political and artistic vision, the grand cities of Europe seem to be expanding theirs. And if there is a Medusa in the living room, artists in Berlin are fearless looking her in the eye.
In einem Mond mit 17 Schlangen - Rathaus Passagen/Berlin 2004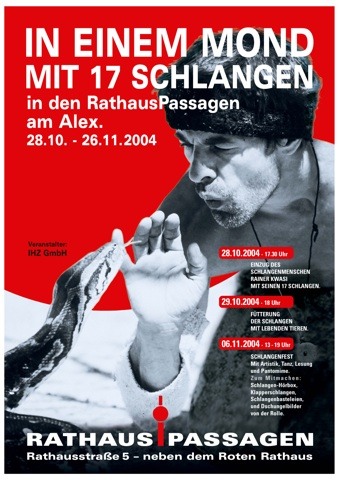 Mit 17 Schlangen unter einem Dach - Berliner Abendblatt
Schlangenbrut im Springbrunnen - Rügener Zeitung 2003